Global Leadership Development
There are two critical qualities that are necessary for successful global leadership: a global skillset and a global mindset.
Having one without the other, while having a relatively positive impact, does not yield the highest and best possible outcomes in global and intercultural business environments. At Intersights we utilize two unique tools for helping you understand and enhance both your global skillset and your global mindset. The Global DISC™ and the IDI™ are tools that provide the framework for this understanding and that help you chart your opportunity for growth and development. Each tool can be used independently to great effect but when paired together, growth and development are unstoppable!
The Global Mindset
Individual and organizational efficiency, productivity and creativity are greatly enhanced when employees have the ability to shift perspective. A Global Mindset involves shifting cultural perspective from one's own view (i.e., one's view of "common sense") to a variety of other views. We can understand how one views the global conttext through a framework that we might call the "global mindset development" scale. The scale looks like this:
The scale depicted here has been adapted and modified from the developmental model of intercultural sensitivity as originally created by Milton R.  Bennett, PhD. The tool for assessing the global mindset orientation is the IDI™ which is a registered trademark of IDI, LLC and Mitchel R. Hammer, PhD. Several of us with Intersights are Qualified Administrators of the IDI™. Contact us today so we can support you and your entire team as you pursue creativity, productivity and efficiency in the global workplace!
The Global Skillset
Individual and organizational efficiency, productivity and creativity are enhanced even further when employees have a repertoire of different skills they can tap into. A Global Skillset involves adapting behaviors generally, and specifically adapting to different communication styles, leadership styles, personalities, motivations of colleagues, departmental objectives, goals, processes, etc. Global DISC™ opens the door to understanding the skillset necessary for working globally.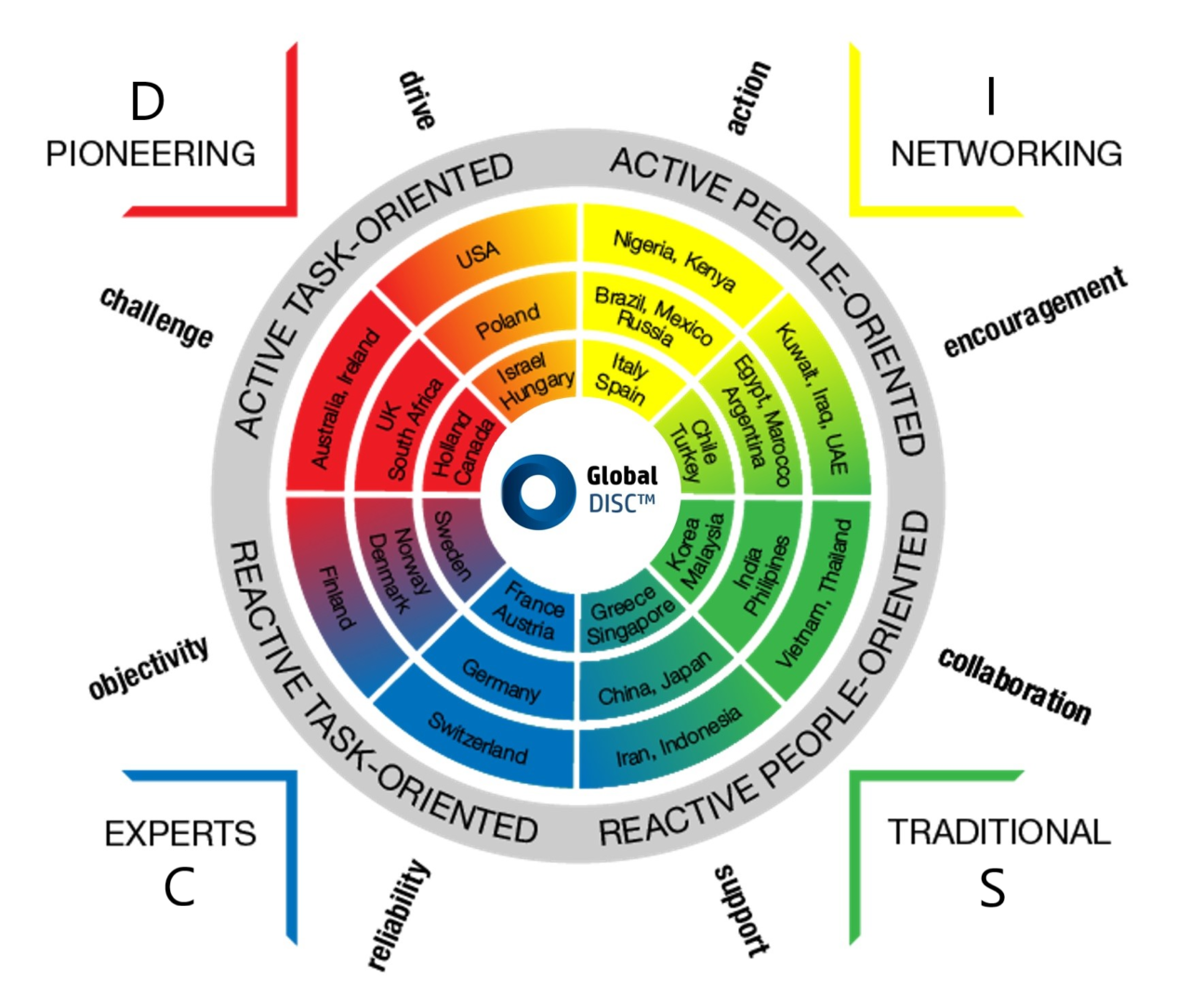 Global DISC™ is the newest and most effective framework for uncovering the broad set of behaviors, skills, motivations, communication styles, leadership styles, etc. that drive leaders and employees and their interactions with others. You are probably familiar with the DISC personality profile. The Global DISC framework, unlike any other framework or tool that is out there, layers the DISC personality types with cultural influences. Together Global DISC's layers of personality and culture provide the most comprehensive and substantive insight for understanding yourself and your colleagues, and for working with your colleagues, employees and business counterparts.
Contact us today to learn more about Global DISC and the IDI!